It's time for the January Walz Caps contest!
This month, we're celebrating all of the Kickstand Cyclery customers who have passed through the shop doors over the years.
Each weekday, we'll show you a picture of a Kickstand Cyclery customer. The customer appeared in one of the comics at yehudamoon.com. Look for them!
When you've found the customer in one of the comics, copy and paste the URL in the browser address bar as a reply to the contest post on our Facebook or twitter pages.
The first reader to spot the customer in one of the comic strips and reply with the URL is entered into a drawing on January 31, 2017 for a $40 Walz Caps gift card. Make sure to accompany the URL with #IamYehudaMoon and @WalzCaps!
Good luck!
Here's the current customer we're looking for: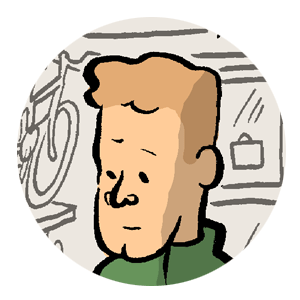 Here are the found customers: